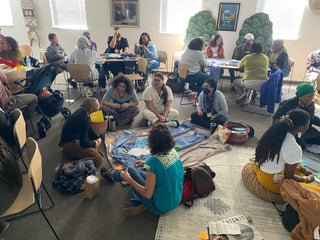 Workshops and Team Buliding
Discover a haven of creativity and unity with Jocelyn Rice's curated suite of team-building activities, designed to foster camaraderie, ingenuity, and a deeper connection to both nature and community.
Under Jocelyn's facilitation, engage in

Collaborative Art 

, where Teams | individuals come together to create artwork, fostering a bond that echoes the beauty and synergy of nature.
In the nurturing environment of

Cultural story circles

, guided by Jocelyn, share personal narratives, fostering a rich tapestry of understanding and empathy. 

Join BLOOM + Black Earth United on immersive Micro-Nature retreats and Wild place-making explorations

, a haven where we

 can explore deeper bonds in the backdrop of the vast outdoors, enriched by a series of activities and storytelling sessions.
Be part of an 

Innovation hackathon

, where

we

 are propelled to devise innovative solutions in the realms of regenerative fashion and outdoor apparel design.

Step into the vibrant world of

Fashion revolution workshops

, where, we collaborate to conceptualize a mini-collection that reverberates with themes of Black liberation, ancestral wisdom, and harmonious connection to nature.